Fusion 2010
The Port Authority of Trinidad and Tobago hosted its fourth annual challenge competition titled "Fusion 2010" on Saturday 05th June 2010. The Fusion competition is an exciting, physical and intellectually challenging sporting event that requires courage, fortitude, stamina, commitment and most importantly teamwork.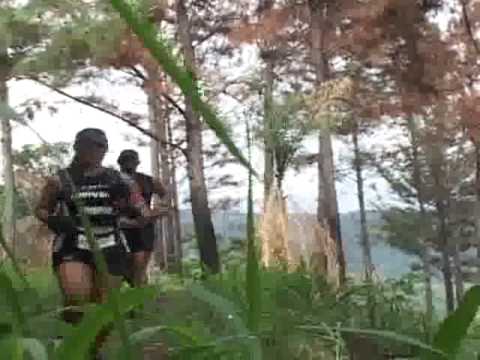 This year sixty (60) teams (43% more than last year) comprising of four (4) persons per team participated. Each team was required to hike/hash selected mountain trails within Trinidad as well as complete a series of team-work/problem-solving activities. There was an average of twenty-five (25) officials on the trails as well as eight (8) search and rescue paramedics.
Competitors were required to assemble at Maracas Beach opposite Sam's Bar no later than 3:00am where numbers were assigned to each team as the final step to completing their registration.
Fusion 2010 started at 3:45am with an event titled 'fill the bottle' where, as the name suggests, each team was required to fill their labelled bottle using their labelled cup. Both of these items were placed approximately 200m away on the opposite end of the beach next to officials. A team member had to run along the beach to the officials and return to their team with the items. On returning to the team, they were now required to use the cup to fill the bottle with a red liquid from buckets at the same point where the bottle and cup were located; only 1 person per team was allowed to run at a time. Once the bottle was filled the team could proceed onto the trail which began at the back of Sam's Bar. The filled bottle represented their token for entry onto the trail and they were required to have it in their possession at all times.
The first leg of Fusion was estimated to take from 2.5 hours (estimated fastest time) to 5.5 hours (estimated slowest time). This leg was approximately 10.4km long and had a total ascent of approximately 5,165ft. All four (4) team members were required to compete on this leg which included a 'night' hike and was marked with silver reflective tape. The first part of the leg comprised of a long painful ascent (which was compounded by the darkness) and 2 rope climbs amid the sounds of the night forest. This was followed by 5 multiple choice questions which carried time penalties if answered incorrectly. Teams continued along a fairly wide benching path along a mild downhill to the top of St. Joseph where they were required to solve a cryptogram which embodied the definition of Fusion.
By this time, darkness began to give way to sunlight and teams now faced the daunting task of a fairly short but excruciating climb. The downhill was technical, long and proved to be trying for even the best teams. Teams took the opportunity to cool themselves in a stream at the bottom of the hill before starting the final test for this leg; a 2km road run to the finish line at Maracas Beach. Team times for this event ranged from 2 hours 35 minutes to 6 hours 9 minutes.
The second leg started at the top of the Lady Chancellor Hill and this previously abandoned trail proved to be a very scenic one which few participants were aware of prior to Fusion. This leg was 12.5km long, required 3 team members and began at 11:10am. Three members from each team were directed down Teracita Hill, across to St. Anns and then to the bottom of Hololo Hill. On very tired legs, teams again had to conjure up their spirit to ascend a road hill which at this time would appear intimidating especially under full sunlight. By request from participants, some workers sprayed participants with water to cool them down; additionally, there was a scheduled water-stop at the top of Hololo. Much to the delight of the teams there was now some downhill but this was very short-lived as there was yet another hill climb but now in the forest. After a short but steep downhill, the trail flattened giving way to a majestic view of Santa Cruz on the right. Teams were now required to solve as many ditloids as possible with each correct answer reducing their overall time.
The trail continued to 2 large steel plates which serve as radio transmitters, then onto a long benching with several technical parts including treacherous cliffs and huge gorges; several of which were outfitted with support rope. The trail allowed for many splendid views of Port of Spain which drew closer with every step. The end of the trail was marked by a beautiful gorge spanned by a bridge; a rarity in the forest. The completion times for this leg ranged between 2 and 4 hours.
At around 5:00pm, teams (using 3 persons per team), were required to run for 5km from TGIF in a clockwise direction around the Queens Park Savannah and back to TGIF. They then proceeded down Victoria Avenue and headed toward the Fire Services Headquarters where they were rejoined by their fourth member. All four (4) members then continued running to the Cruise Shipping Complex at the Port Authority where they all received medals. This leg of the event ranged from 21 to 45 minutes and culminated in a prize giving ceremony within the packed Cruise Shipping Complex where there were prizes for the top 9 teams, team spirit, the top 2 female teams, the top port team and the most senior team to complete the entire event
The Port Authority of Trinidad and Tobago's Fusion 2010 was coordinated, planned and managed by staff of the organization, led by Charles Bobb-Semple and supported by volunteer officials, was a tremendous success. The event received high kudos (website, email and word of mouth) from all participants. The support of Management and Staff of the Port Authority of Trinidad and Tobago was instrumental in the successful deployment of this venture. Additionally, the event's success was concretised by the support from all of our sponsors: the Ministry of Sport and Youth Affairs, Gillette Fusion, Nature Valley, Subway, Container Recovery & Billing, Pilots Association, Oasis, Gatorade, Ocean Spray, Monster, Kiss, Gullon, Yoplait, Grace, Ovaltine, Oscar Francois, Angostura, Holiday Snacks, Johnson & Johnson's, Agostini, Carib and the Sanctuary Day Spa.
Award
Team Name
Entity
Sponsor

1st Place

Eco Adventures

Eco Adventures Ltd

Fusion

2nd Place

Sea Wyf Sailors

Hell Yeah!

Container Recovery & Billing

3rd Place

Junglist

Port Authority of T&T

Pilots Association

1st Port Team

Junglist

Port Authority of T&T

Gillete Fusion

4th Place

Vinci Construction

Vinci Construction

Gillete Fusion

5th Place

Jumbies Trail Warriors

Jumbies MultiSport

Gillete Fusion and Oscar Francois

6th Place

TTRC

T&T Road Runners Club

Nature Valley

7th Place

Die Hards

Angostura Limited

Ovaltine and Subway

8th Place

Trailing Edge

Trailing Edge

Holiday Snacks

9th Place

Casuals Bail Busters

Crix Corkie's Casuals

Oscar Francois and Subway

TEAM SPIRIT

Junglist

Port Authority of T&T

Angostura, Carib and Subway

1st placed Female

Team

Fusionistas

Jumbies MultiSport

Johnson and Johnson

2nd placed Female

Team

Humming Birds

Jumbies MultiSport

Agostini's and Sanctuary Day Spa
Participating Teams
| Team # | Team Name | Entity |
| --- | --- | --- |
| 1 | 5th Gear | 5th Gear |
| 2 | Alpha Hashers | Nitrogen Hashers |
| 3 | Alpha1 Energy | Petrotrin |
| 4 | Alpha1 Power | Petrotrin |
| 5 | Amazons | Central Bank of T&T |
| 6 | Apollo 4 | Apollo 4 |
| 7 | Asian Confusion | Jumbies MultiSport |
| 8 | Avatars/Doing It | Port Authority of T&T |
| 9 | Awesome Foursome | Anytime Ice Supplies |
| 10 | Beserk | Vikings Club |
| 11 | Beta Hashers | Nitrogen Hashers |
| 12 | BGTT (1) Gas Brains | BG Trinidad & Tobago |
| 13 | BGTT (2) Pipeline | BG Trinidad & Tobago |
| 14 | Casuals Bail Busters | Crix Corkie's Casuals |
| 15 | Casuals Geriatrics | Crix Corkie's Casuals |
| 16 | Casuals Gillette Fusion | Corkie's Casuals |
| 17 | Cookies and Cream | T&T Alliance for Sport & PE |
| 18 | D Incredible | D Incredible |
| 19 | Daring Divas | Daring Divas |
| 20 | De Right Mix | Angostura Limited |
| 21 | Defence Force #1 | T&T Defence Force |
| 22 | Defence Force #2 | T&T Defence Force |
| 23 | Die Hards | Angostura Limited |
| 24 | East Coast Crew | The Fitness Centre Ltd. |
| 25 | Eco Adventures | Eco Adventures Ltd |
| 26 | Fanatics | Port Authority of T&T |
| 27 | FS1 | Fluor/Summit |
| 28 | FS2 | Fluor/Summit |
| 29 | Fujitsu Ninjas | Fujitsu |
| 30 | Fusionistas | Jumbies MultiSport |
| 31 | HI Titans | Hikers Inc |
| 32 | Humming Birds | Jumbies MultiSport |
| 33 | Jerry – Ah – Triks | Port Authority of T&T |
| 34 | Jumbies Con-Fusion | Jumbies MultiSport |
| 35 | Jumbies Trail Warriors | Jumbies MultiSport |
| 36 | Junglist | Port Authority of T&T |
| 37 | Khaos | Vikings Club |
| 38 | Law and Odour | Law and Odour |
| 39 | Mash Ah Vine | Port Police Department |
| 40 | Mountain Cats | Mountain Cats |
| 41 | NFM (Bushketeers) | National Fluor Mills Ltd. |
| 42 | Optimum | Jai's Carwash |
| 43 | Outsiders | Outsiders |
| 44 | Paria Springs Adventures | Paria Springs |
| 45 | Rebels | Vikings Club |
| 46 | Samuari | Central Bank of T&T |
| 47 | Sea Wyf Sailors | Hell Yeah! |
| 48 | Shoot… the race is today?! | Shoot… the race is today?! |
| 49 | Sit down, Shut up and learn this lesson | International School of Port of Spain |
| 50 | Spartans | Central Bank of T&T |
| 51 | Speedy Turtles | G. Bobb Air Conditioning |
| 52 | The Beacon Trail Blazers | The Beacon Trail Blazers |
| 53 | The Beacon Trail Blazers Too | The Beacon Trail Blazers Too |
| 54 | The Mommas and the Poppas | The Mommas and the Poppas |
| 55 | Trailing Edge | Trailing Edge |
| 56 | TTIT Trekkers | Port Authority of T&T |
| 57 | TTRC | T&T Road Runners Club |
| 58 | Vinci Construction | Vinci Construction |
| 59 | We Fit | Jumbies MultiSport |
| 60 | We've Got Game! | Anybody |
Official Results